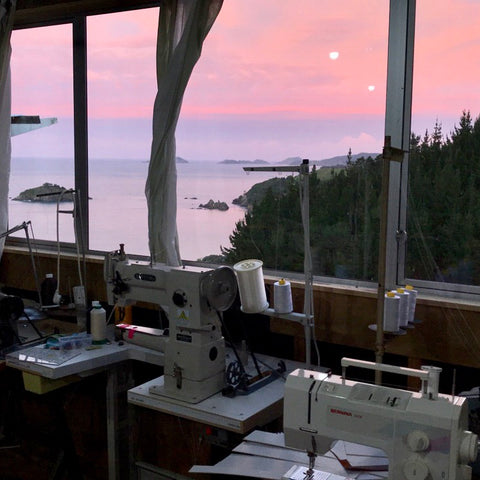 CREATIVE ENERGY
Her colourful studio is based on the outskirts of a small town called Kaeo in New Zealand. It is surrounded by Forrest and the Ocean which provides an ever changing landscape from which she draws inspiration for her works. Her sanctuary is awash with colour which flows over to every piece she makes. She is not afraid to mix colours, patterns and textures both inside and out of each bag. She hates things being the same - this is why there will never be two Handbags the same in the whole entire world. She hates waste of precious resources and things that fall apart so a big focus is in the structural quality of each piece. Every seam is knotted, glued and hammered - Every edge is painted with special paint imported from Italy. Every scrap of leather is turned into something too. Less than 1% waste is her aim.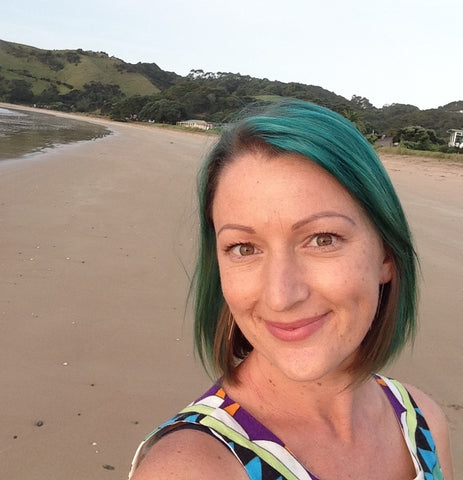 THE CREATOR
Meet Eekie, otherwise known as Dominique, Eek, Antique or Teek plus a load of other offshoots from these - she is still one person but wears many hats in her studio. Her natural habitat is the beach, she feels alive and creative when surrounded by nature - even if it storms! She loves travelling and is passionate about helping others to see things from another view. Hence why she doesn't do black! She loves to colour her hair crazy fun colours currently she favours a Teal / Turquoise shade. She doesn't like to cook but is very happy to do the dishes! In her younger years she was an avid golfer and currently wishes and is trying to be able to create some room in her life to get back into this challenging game. Eekie LOVES a challenge!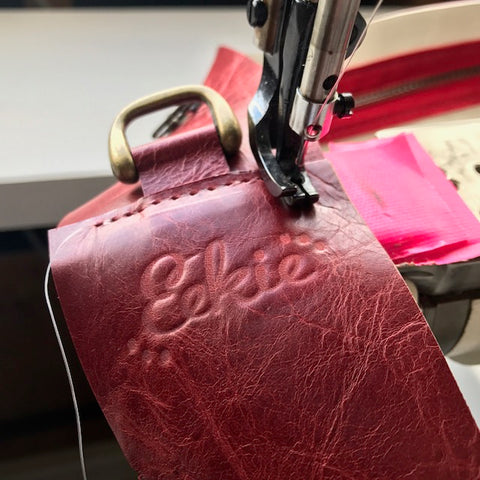 CREATIVE BEGININGS
Eekie is asked many times what lead to start this label. She laughingly says 'Sometimes you need a knock around the head to get on the right path in life' this is exactly what happened. She left the big city and moved to the country without really thinking about it - just knowing that life is short and we have to make the most of it. She worked as a Wedding Co-ordintaor - however this obviously wasn't the right path and she slipped and her head collected with the tiles which is not a great match. During her recovery she sold her car bought an industrial machine and set about teaching herself how to use it and work with leather. Now she creates bespoke pieces for clients all around the world and has found her path in life.
Kind Words from Eekie Clients
As a birthday present I got the Mrs C. Don't be deceived by her size as she can carry a ton! The leather is so soft and feels lovely. The workmanship on the bag is impeccable and the attention to detail is amazing. From numerous internal pockets, to the key clip at the end of the zip, to a pocket to put your sunglasses in. When I carry my Mrs C I truly feel original as I know there's no other bag out there like her!

Arifah
My girlfriends gave me my beautiful bag for my birthday over a year ago. I use it every day and looks as new. Absolutely love how it's made inside and its exterior.
It's a strong, beautiful, stylish and mostimportantly UNIQUE bag.
Custom made and matches my character!!!
Thank you!

Luda
I purchased myself a Slim line Card holder- I'm very impressive by the innovative design, immaculate stitching and superior attention to detail. It's clear Eekie uses the finest products to make her creations!

Bridget
I bought a Miss Willette in taupe and cream and she is such a stunning bag!

Everything about her is just so well made and meticulously thought out with so much passion and love. She's just everything I want and need in a sidekick! Definitely worth every penny and would happily purchase another bag again!
Thanks Eekie!

Saba
We love our Eekie Boo-Teekie nappy change wallet. It's holds everything we need when we're out and about, due for a quick change at home and even when teething! Thanks Eekie! 💛 and thanks Aunty Kate!

Jess
I love quality handmade items... So when I met Eekie Boo-Teekie at a local market I just knew I had to have some of her creative leather accessories. She offered to customise any combo I like, down to the teal stitching and sparkly stud. "Oh yes please, a matching set!!" They arrived in the mail this week and it totally made my day, such joy :) Thanks Dominique, I love them so much

Delwyn
Thank you so much Eekie, I "moved in" to my new bag yesterday and I just love it! Everything about it is just perfect- all the little pockets are just great and I know where my keys are! You're amazing and it was totally worth waiting for! Xxx

Kristina
I have had my Eekie Boo-Teekie bag now for several months. Just wanted to report back how much I Love it!! The colours match perfectly with so many of my outfits and it has attracted lots of compliments from my friends here in Scotland. But she really came into her own on my recent trip to Thailand. Perfect size for passport, money, keys and smart phone (+ bug spray! ). So durable and stylish, she ended up sneaking into a few pictures so I thought I would share. Keep up the good work Eekie. 💜💗

Clare
My excited mum got her gorgeous eekie bag for Christmas - This was three years ago and her bag, used every day - still looks brand new! Invest in quality and it will last. I saved up and nabbed myself a Miss Maisie too! I LOVE her!

Manda
FOR ENQUIRIES
E-mail: dominique@eekie.kiwi